Featured Article
Jacksonville's Magnolia Inn
Southern Mansion set in the Old West
by Christina Duane

While lounging on the second story veranda of Jacksonville's Magnolia Inn, or sitting in the yard below under the giant Magnolia Tree, guests are enveloped in comfort while they enjoy the view of the Historic Jackson County Courthouse, now the Jacksonville Museum, and take in life in this Southern Oregon gold rush town.
With hints of the grandeur of a Southern plantation and all of the elegance of a French Provincial Inn, Magnolia Inn is a refreshing and enchanting getaway in the heart Rogue River Country and a short drive to rafting adventure and a national treasure, Crater Lake.
The guests of Magnolia Inn are treated to the warmest hospitality by the Inn's owners, Robert & Susan Roos, who have recently updated the inn with warm and rich decor with a Tuscan influence. This 'Jewel of Country Inn' has earned a well deserved AAA triple diamond rating.
Every romantic room has been thoughtfully appointed with antiques, fine art and subtle themes using soft warm and rich color palates that combine with the natural filtered light and shadows that move across the inn throughout the day and evening to caress the senses. One room features an adjoining room with a twin bed, which is perfect for a couple traveling with children.
Opening to the Colonial Veranda is the guest kitchen and sitting room where delicious pastries are served with morning coffee and select teas. Throughout the day, guests can enjoy this area, playing board games, selecting videos and reading materials.
What is striking about Magnolia Inn is it's spaciousness, wide stairways and hallways, the feeling that you are enjoying life in a Southern Mansion in the heart of the West's most picturesque gold rush town with shopping, dining and cultural attractions that rival the top travel destinations all within steps from the inn.
The world famous Britt Music Festival takes place, a short walk up the hill to Britt Gardens, named for photographer, musician and early settler to Jacksonville, Peter Britt. The festival attracts top name performers and people from around the world come to this outdoor series overlooking the Rogue Valley.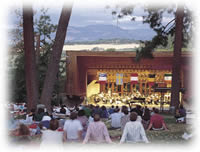 Nearby wineries are open for tasting and Jacksonville's five star restaurant Jacksonville Inn has a wine shop that features the best selection of wines between San Francisco and Portland.
Perhaps one of the most popular attractions is the Jacksonville Children's Museum, just across the street from Magnolia Inn. This hands on Pioneer Museum features miniature trains, and interactive rooms where children can play in Pioneer settings and learn about the old West. While a walk through the old graveyard on the hill with headstones dating back two hundred years is a hauntingly beautiful experience, it is just one of many memorable experiences that make a visit to Magnolia Inn a treasured destination you will return to again and again.
© Copyright Christina Duane and The Magnolia Inn. No unauthorized duplication without written consent.