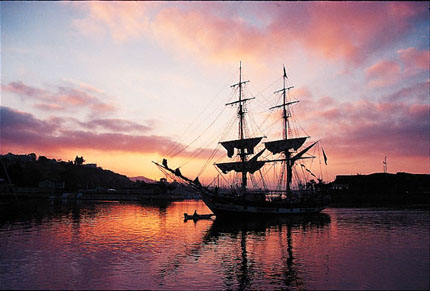 The Pilgrim, Dana Point Harbor
photo courtesy of oc.book.com
Incorporated in 1989, the beautiful coastal city is named after Richard Henry Dana (1815-1882), a sailor and author famous for his novel, Two Years Before the Mast. In it, he refers to Dana Point as "the only romantic spot in California."
Hipolito Bouchard, a pirate from Argentina, found the cove at Dana Point a safe refuge. In 1818, he docked his pirate fleet in the cove while his sailors were raiding and setting fire to parts of nearby Mission San Juan Capistrano. This event is recreated at the annual Pirate Festival held in Dana Point and San Juan Capistrano.
The original plan for Dana Point was for a Spanish-style town with wide streets named after lanterns. When the streets were laid out, streetlights were installed that modeled kerosene lanterns use by sailors. You can still see this in names such as Street of the Golden Lantern, and Street of the Blue Lantern.
Historical Sites:
Landmark #189 Ken Sampson Overview - South of the Blue Lantern at Santa Clara Ave
Named for Richard Henry Dana who visited here in 1835. El Embarcadero, the cove below was used by hide vessels trading with Mission San Juan Capistrano. This trade reached its peak in 1830-1840